One of the loveliest ways to explore our area is on a hike. Cape Cod National Seashore offers eleven self-guided nature trails that are open year-round. Most treks are easy, ranging from one-quarter mile to three miles, and provide great opportunities for birding, wildlife sightings, and stellar vistas. Here are two to get you started.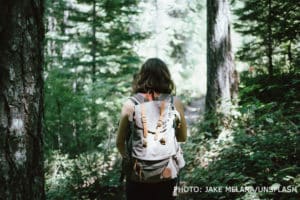 Nauset Marsh Trail, which you can pick up here in Eastham, is not only a local treasure, but also takes you through one of the prettiest spots on the entire peninsula. Start your hike at the Salt Pond Visitors Center where you can view a short movie on the National Seashore area and pick up a map that will point out landmarks along the hike.
The Nauset Marsh Trail follows a leisurely 1.6-mile path to the ocean at Coast Guard Beach. Along the way, you'll walk through groves of cedar, pine, and oak; pass over the marsh on a modern wooden bridge, and hike up a short hill to the Coast Guard Station, where you will be rewarded with expansive views of the beach and Atlantic Ocean. It's a peaceful trek with tons of photo ops.
The Red Maple Swamp Trail is actually a loop trail (less than one-mile round-trip) that meets up with the Fort Hill trail. Enjoy a varied habitat of swamp, forest, open fields, and salt marsh that provide terrific opportunities to see a variety of birds and plants. The off-season is a particularly great time to take this hike as it can be riddled with mosquitoes and other biting insects during summer. Because this trail feeds from the Fort Hill Trail, you can join if you'd like a longer hike.
For a full listing of trails and additional hiking information, check with the Cape Cod National Seashore website.
And of course, when you stay with us at Whalewalk Inn, we'll be happy to give you directions and information on local hiking, dining, and lots more. Call us today to book your next stay!